USER FRIEDNLY
API easy to use and the same time powerfull enough for complex tasks.
UNIVERSAL AND FAST
Works with any server directly by TCP. No need to install plugins on server side.
SUPPORT
We glad to help you with any question ASAP. Good documentation with samples.
MOBILE APPLICATIONS
Android, iPhone, iPad, Windows Phone
DESKTOP APPLICATIONS
.NET Core ready. You can make cross-platform application for Linux, Windows and MacOS.
WEB APPLICATIONS
ASP, PHP, Java Python and others.
unique product in the web
API works directly with MetaTrader 4 and 5 servers.
No need to run MetaTrtader terminal. No need to install server side plugins. API simply emulates MT4/5 terminal and works with server by TCP. Able to connect to any server.
MT4 API developed purely on .NET and ready for cross-platform DotNET Core applications. MT5 API developed on C++ and we provide easy to use DotNET wrapper.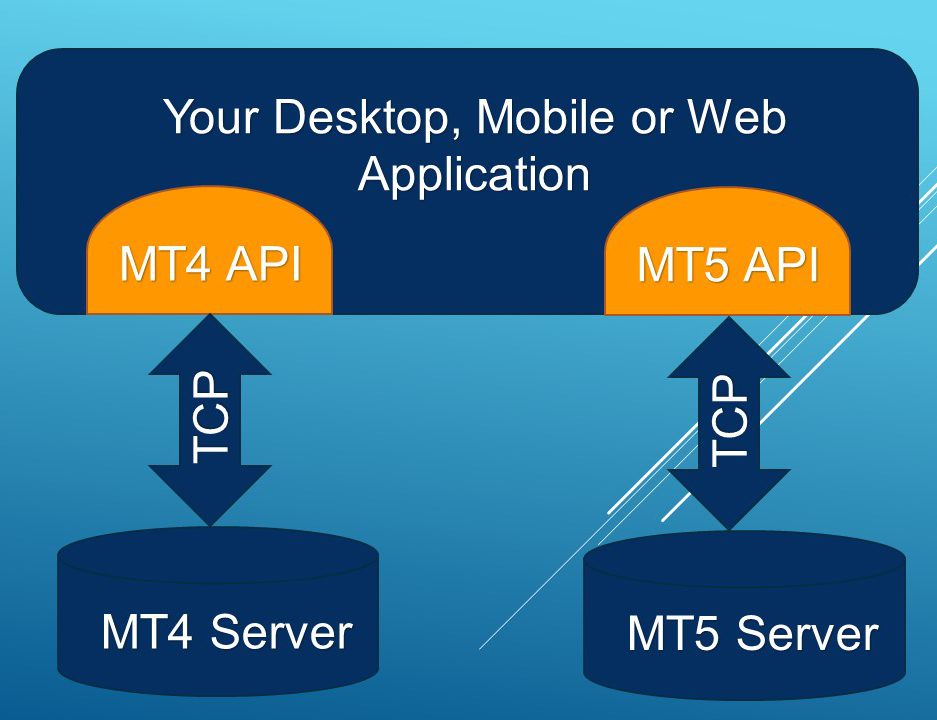 Downloads
Trial verions limited for 2 weeks of use and don't have trading functionallity..
.NET DLL
.NET Framework or .NET Core DLL which allows to design cross platfrom desktop applications for Windows, Linux, Mac as well as mobile applications for Android and iOS.
MT4 API for Java, PHP, Python
Everyday support by Skype, Wechat, Telegram or email included.
Custom solution
Our team ready to build any project up to your needs. We can make application for MetaTrader4 and MetaTrader5 servers as well for Crypto Exchanges (Binance, Bittrex, Kucoin and others).
Contatct us for details.
Website
from 1.5 BTC
Trade Copier
Trading Statiastics
Modern design
Mobile
from 1.5 BTC
iOS
Android
Windows Phone
Plugins for MT4 or MT5 server
If you have our own MetaTrader4 or MetaTrader5 server and want to extend functionallity we ready to help you build server plugin.
ORDER
Contact us
Feel free to ask any questions.
Email: sam@mtapi.online
Skype: timurila
Wechat: timurila
Telegram: timurila
Or use chat icon on bottom right side of this page.